Canada CPI Inflation Cools to 6.3% in December — 2nd Update
OTTAWA–Inflation in Canada cooled slightly more sharply than anticipated in December but some price pressures remain sticky, doing little to damp expectations there is at least one more increase in interest rates to come.
The pace of inflation overall continues to ease, pulling back from the peak seen in the summer, thanks in large part to a big monthly drop in prices at the pump. But consumers continue to pay more for groceries and other items and core measures of inflation closely tracked by the Bank of Canada remain elevated. The central bank will also weigh the fact inflation expectations continue to run hot when it meets to decide on monetary policy next week.
Canada's consumer price index rose 6.3% in December from a year earlier, Statistics Canada said Tuesday. That was modestly below the 6.4% increase expected by the market and down from November's 6.8% increase. The index hit a roughly four-decade high of 8.1% in June.
Compared with the month before, CPI declined 0.6% in December, the largest monthly retreat since April 2020 and a slightly bigger drop than the consensus expectation for a fall of 0.5% month-over-month. On a seasonally adjusted basis, inflation slipped 0.1% in December from November.
"Canadians continue to feel the pinch, but December was one of the most optimistic prints yet in the long and painful fight for price stability," said Marc Desormeaux, principal economist at Desjardin.
Still, Mr. Desormeaux said the latest data doesn't alter his view the Bank of Canada will raise rates a further one-quarter percentage point this month, particularly after the strong jobs report for December and a central bank survey out this week showing still-elevated inflation expectations argue for more tightening.
With a pullback in crude-oil prices for the month, gasoline prices as expected were the biggest drag on monthly inflation in December. The price of gas on a monthly basis fell the most since April 2020 and was up only modestly compared with a year earlier. However, while prices for food from stores rose at a slower pace in December, annual grocery inflation remained elevated, hovering around 11% for the last five months.
Excluding volatile food and energy prices, Canada's CPI rose 5.3% in December from a year earlier, after a 5.4% gain in November.
Two measures of core inflation the Bank of Canada closely monitors, median and trim, eased slightly in December to an average 5.2% from 5.3% the month before, Statistics Canada said.
Investing Insights with Global Context
Understand how today's global business practices, market dynamics, economic policies and more impact you with real-time news and analysis from MarketWatch.
SUBSCRIBE NOW: US $1 FOR 4 WEEKS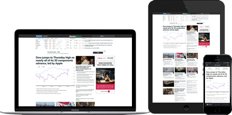 The central bank, which aggressively lifted its benchmark policy rate in 2022 to its highest in almost 15 years, has forecast inflation will decline to roughly 3% late this year and return to its 2% target by the end of 2024. Still, the bank's survey of businesses released this week showed that more than 80% of firms expect inflation to be above 3% over the next two years.
The bank has said it will be more data-dependent in future rate decisions as it watches how the economy responds to the four-percentage-point increase in its benchmark rate over the course of the year, bringing it to 4.25%. Economists suggested the odds tilted in favor of another increase on Jan. 25 after the country added a stronger-than-anticipated 104,000 jobs in December and the unemployment rate ticked down closer to the record low recorded in the summer.
Benjamin Reitzes, managing director of Canadian rates and macro strategist at Bank of Montreal, said the slow pace of improvement in core inflation will bring little comfort to policymakers.
"Underlying price pressures remain sticky for now," he said, adding that while the direction of inflation is at least mildly encouraging, he saw nothing in December's CPI report to keep the Bank of Canada from lifting rates another quarter-point next week.
TD Securities similarly said the most prudent move for the central bank would be one last quarter-point rise rather than risking falling behind the curve.
Over the course of last year, CPI rose 6.8% on an annualized average basis, the fastest pace since 1982, after an average rise of 3.4% the year before and 0.7% in 2020. Price increases were broad-based, with gains in the cost of day-to-day basic such as transportation, food and shelter rising the most, the data agency said. Still, it noted that relatively large month-over-month price movements seen from January to June last year will stop influencing annual price movements when higher prices from 2022 are used as the basis for year-over-year comparisons.